As part of our on-going effort to improve our process, service, and technology, we are undergoing a significant upgrade to our school system and network infrastructure, in general. We know that these types of transitions sometimes take a lot of time, so we ask in advance for your understanding and support as we make this change.
Thank you for your continued support. God bless.
ENROLLMENT PROCESS FOR OLD STUDENTS
STEP 1: LOG-IN
LOG-IN to the SBU Email Account assigned to your child.
How to login?
PAGE 01 | PAGE 02
Need help with your SBU Email? Email us at mailadmin.rizal@sanbeda.edu.ph
STEP 2: PAY
In support of the government's mandate to utilize CASHLESS payments and thereby help ensure safety and convenience, the following PAYMENT OPTIONS are available.
Visit our webpage, www.sanbeda.edu.ph/accounting for the PAYMENT OPTIONS
PAY NOW | (NEW) PAYMENT OUTLETS and MOBILE WALLETS PAYMENT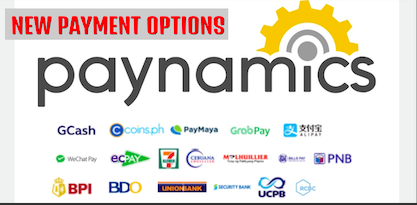 STEP 3: VALIDATE
Once we have validated your payment, we will send the following through your e-mail:
Details of the Online Accounts

Genyo Account
SBU Microsoft Email/ Office 365 Account (for NEW students)
i-Connect Primer on Distance Learning
Enrollment Agreement Forms
SBU Contact Details
View the Enrolment Procedure Infographics:
ENROLLMENT PROCESS FOR NEW STUDENTS

STEP 1: SUBMIT

Report Card

signed by Principal
Eligible to Transfer or promoted to the next Grade Level
for incoming Grade 1 to Grade 11 students only
One (1) Original copy
One (1) Photocopy

One (1) Photocopy of Philippine Statistics Authority (PSA) Birth certificate.

Accomplished Recommendation Forms (if not yet submitted)

For incoming Grade 1 to Grade 6 students

One Accomplished Recommendation Forms for incoming Grade 1 to Grade 6 students

For incoming Grade 7 to Grade 11 students

Two (2) Accomplished Recommendation Forms

ID Pictures

Three (3) pcs. 2" x 2" with white background
Two (2) pcs. 1" x 1" with white background

Additional Requirements:

For incoming Grade 1 students:

Photocopy of CERTIFICATE OF COMPLETION (or Diploma)

For incoming Grade 7 students:

Certificate of Honor - with Highest Honors and High Honors of the batch for evaluation of scholarship grant

Note: The Certificate should include the name of the child, General Average, Overall Rank either Rank 1 or Rank 2, and the Total number of students in the batch

For incoming Grade 11 students:

Photocopy of CERTIFICATE OF COMPLETION (or Diploma)
Photocopy of NCAE RESULTS for local students

Note: If not available, please provide a letter stating the reason why the student doesn't have one

Voucher Certificate (for ESC and DepEd Voucher recipients)

One (1) Original copy
Three (3) photocopies

Certificate of Honor - with Highest Honors and High Honors of the batch for evaluation of scholarship grant

FOR FOREIGN STUDENTS:

One (1) Photocopy of Birth certificate

Accomplished Recommendation Forms (if not yet submitted)

For incoming Grade 1 to Grade 6 students
One Accomplished Recommendation Forms for incoming Grade 1 to Grade 6 students

For incoming Grade 7 to Grade 11 students
Two (2) Accomplished Recommendation Forms

ID Pictures

Three (3) pcs. 2" x 2" with white background
Two (2) pcs. 1" x 1" with white background

One (1) photocopy of applicant's passport

front page
stamped page with proof of validity of stay

Affidavit of Support from parents
One (1) photocopy of ACR (I-CARD)
Final Report Card

signed by Principal
with Apostille Authentication except those who studied in a Philippine School
Eligible to Transfer or promoted to the next Grade Level
for incoming Grade 1 to Grade 11 students only
One (1) Original copy
One (1) Photocopy

Photocopy of Scholastic Records (except those who studied in a Philippine School)

STEP 2: PAY

In support of the government's mandate to utilize CASHLESS payments and thereby help ensure safety and convenience, the following PAYMENT OPTIONS are available.

Visit our webpage, www.sanbeda.edu.ph/accounting for the PAYMENT OPTIONS

STEP 3: STUDY

To validate your payment, please forward the successful payment confirmation email to idearos@sanbeda.edu.ph

Once we have validated your payment, we will send the following through e-mail:

Details of the Online Accounts

Genyo Account

SBU Microsoft Email/ Office 365 Account

Schedule of Classes
Bulletin of Information
i-Connect Primer on Distance Learning
Enrollment Agreement Forms
Library Account (for Online Resources)
Welcome to SAN BEDA UNIVERSITY
It's one thing to want QUALITY EDUCATION…
It's another thing to experience INNOVATIVE BEDAN Education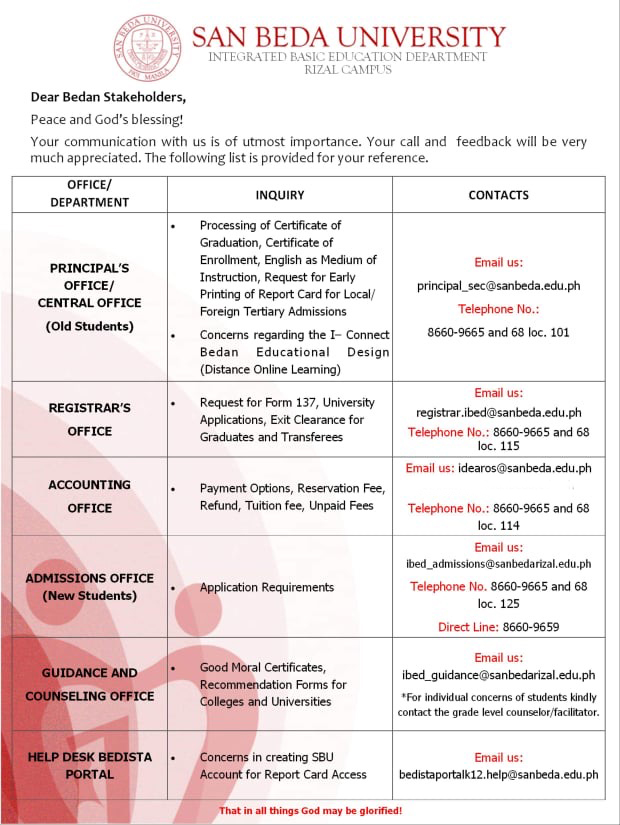 Welcome to SAN BEDA UNIVERSITY
It's one thing to want QUALITY EDUCATION… It's another thing to experience INNOVATIVE BEDAN Education